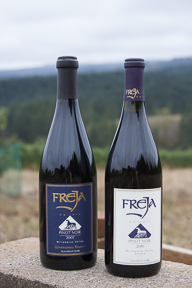 Freja Cellars is dedicated to the pursuit of producing artisan Pinot Noir wines of the highest quality made from our own sustainably farmed estate vineyards. Our wines are made in the classic Burgundian style.
It has been stated many times before but especially true with Pinot Noir, ninety percent of the wine characteristics are produced out in the vineyard as opposed to in the winery. With this philosophy in mind, the fruit receives minimal handling in the winery and gravity is used to move the wine in most of the processing.
Freja wines exhibit distinctly Oregon characteristics but best resemble the Cote de Beaune Burgundies, Volnay serving as our benchmark. Freja Pinots tend to be elegant wines with good color, medium body and a silky-smooth, long finish. Great Pinot Noir wines historically come from very small producers.