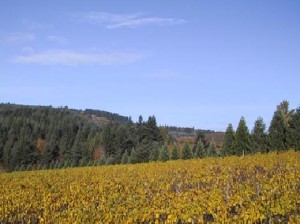 Freja Vineyards are located on the Chehalem Mountains  in the North Willamette Valley.
The Pinot Noir vines are on a very steep slope at 800-700 ft elevation  facing south-southwest with the soil type of Laurelwood. The Laurelwood series is a well-drained reddish silt loam loess deposits reaching a depth of 30 feet left behind by the missoula floods at the end of the ice age.
The current production acreage was established in 1988 with both Wadensville (50%), 777(25%) and Pommard (25%) Pinot Noir clones. Under Freja management, an adjacent property, the Hughes vineyard, has begun producing high quality fruit(115) for the winery. 
The  vineyards are managed using sensible viticulture practices.