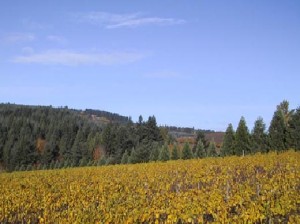 Freja Vineyards are located in the North Willamette Valley in Washington County.
The Pinot Noir vines are on a very steep slope at 800-700 ft elevation on Chehelam Mountain facing south-southwest with the soil type of Laurelwood. The Laurelwood series is a well-drained reddish clay loam consisting of sedimentary and volcanic deposits reaching a depth of 30 feet that sits on top of broken basalt. This  soil  formed at the end of the ice age when the ice dams creating the large lakes of Montana gave way draining the lakes(missoula floods), leaving a sedimentary silt deposit in the Columbia river gorge. Susequent storms blew this soil on the noth side of the Chehelam mountains where it mixed with the indigenous volcanic soils.
The vineyard has excellent natural air movement and drainage because it slopes toward the McFee Creek basin. The vines are predominately on 5 feet by 7 feet spacing.
The current production acreage was established in 1988 with both Wadensville (75%) and Pommard (25%) Pinot Noir clones on native roots. Under Freja management, an adjacent three acre property, the Hughes vineyard, has begun producing high quality fruit(115) for the winery. Another 3 acre adjacent property the Musso vineyard is now well established with the Dijon clone 777 Pinot Noir and is another source of grapes for the winery.
The  vineyards are managed using sensible viticulture practices. The crop levels are maintained at 2.0-2.5 tons per acre. Heavy use of leaf pulling and hedging is necessary to assure adequate sunshine and air movement in the cluster zone. The high elevation assures slow ripening and long hang times, bringing out the full varietal character.